Address Station the Hague Central
Kon. Julianaplein 95, 2595 AA the Hague
The Hague Central Station is The Hague's central station. With twelve tracks, The Hague Central is the largest end-station in the Netherlands. It was opened in 1973 just next to the old Den Haag Staatsspoor station.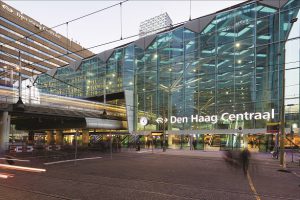 Pay attention: On-going trains between Amsterdam and Rotterdam, including those of the night network (but not the international train service Thalys), pass through The Hague. However, they do not pass through the Hague Central, but only stop at the Hague HS.
The trains to and from Leiden and Amsterdam that have The Hague as a start or end point, come in The Hague Central and not along HS.
Quite difficult for day visitors or tourists. Because for them it is often unclear whether they have to transfer from the south; Coming from the north, it is sometimes best to transfer to Leiden.
Walking from The Hague Central to Hollands Spoor
If you want to know more about the facilities at The Hague Central, you can look at the site of the NS