10 Most popular attractions in The Hague
The Hague has so much! These attractions are very worthwhile and cannot be missed in a city trip The Hague! So if you cannot make a choice, we will do that for you 🙂 This video will help you on your way.
The Hague is a city without borders. Politics, social organizations, world groups, museums, palaces, shops and the beach. Oh yeah. And hospitality …. Lots of hospitality 🙂
But if you want to see the most important places, then you already have some ideas with these top 10 attractions:
And we would like to add something to this list ourselves. Because of course, what is also a super attraction is SEA LIFE Scheveningen!
Sea Life Scheveningen
SEA LIFE Scheveningen is one of the best outings with children.
Relax from the beach after a hot day at the beach, or after a wild beach walk, stop by this beautiful aqarium. It gives you a special glimpse into the wonderful underwater life of our oceans. Come face to face with sharks and rays. Learn more about sea turtles and dangerous piranhas. And meet the friendly otters and penguins in their beautiful residence. SEA LIFE has no fewer than 45 aquariums with marine animals and is open every day. The indoor attraction therefore always offers a varied outing for families with children from around 3 to 11 years, even when it is raining or bad weather in Scheveningen.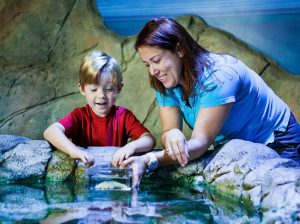 Children can attend the daily feeding of the animals or do a treasure hunt, and during school holidays there are additional youth activities that can be attended for free. Located on the boulevard of Scheveningen, SEA LIFE can be perfectly combined with a visit to the beach. This way you can turn your day away into a true sea day!
Do you have tips for us? Where do you like to go? Which attraction is there in your top 10 that needs to be added?