At The Hague Central Station there will be a mega-large, underground, new bicycle parking facility with room for 8,500 bicycles.
And we have been working hard on that for a long time!
Cyclists will soon have a direct connection to the public transport network via the parking facility. It is a fairly large project that will be a welcoming and green calling card for The Hague.
Koningin Julianaplein – bicycle storage
The new bicycle parking will be on Koningin Julianaplein. You can follow the construction via the webcam. And a 2e webcam is positioned towards Babylon.
What is really cool is the drawing of the end-result of the square in front of the station. Very impressive!!
But to come back to the bike shed, it will look like this: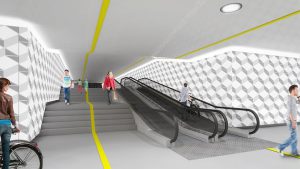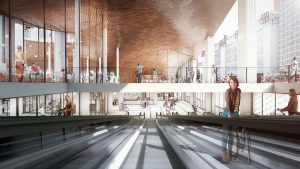 Bicycle parking The Hague Central| impression
The bicycle parking will be ready at the end of 2019.
So that will be something, that (station) square! 🙂
By the way, do you want to know where you can park your bike properly at the moment? Then look at this overview bicycle storage at the Hague.
Tip from Miss Stork; If you want to explore The Hague by bike, check out this fun one Bike tours!