Overview of restaurants and shops in Central Station
The Hague CS has a number of facilities where you can eat something or buy magazines or books for example. This list tells you where you can get food and drinks at the station itself and which stores there are.
Next to the station is the New Babylon shopping and office complex, where you will find more shops and restaurants, which will soon be listed in a separate list.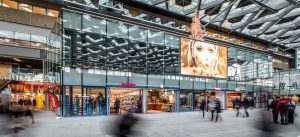 At the station you can go to:
Bruna
Jambelle
Kiosk
Leonidas
Smullers
Starbucks Coffee
Albert Heijn to go
Julia's
The Döner Company
ETOS
De Broodzaak
La Place Express
Bloem!
Sissy Boy
Mado
Chop Chop fresh salad
Satebar
Grand Central Food Market
And if you need passport photos, there is even a passport photo machine at the station.